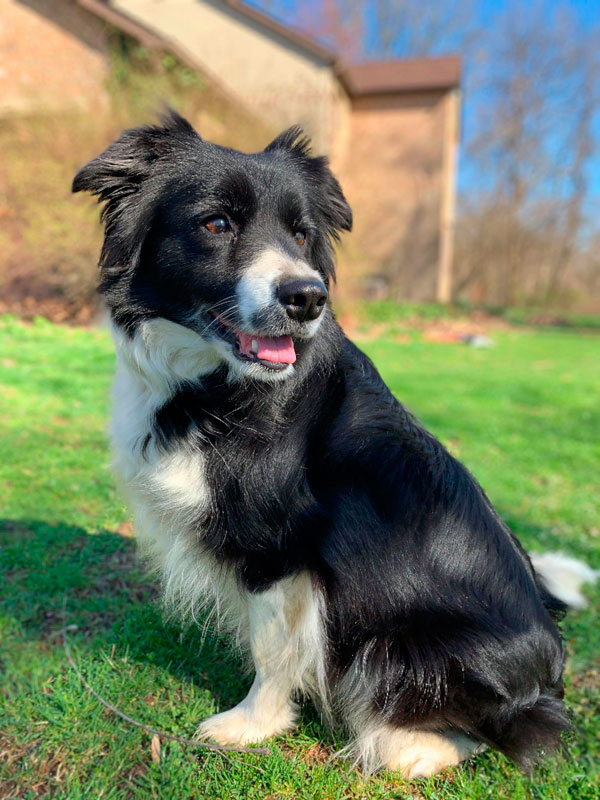 In years past her home had a German shepherd they took to obedience school. Gina paid attention to all of the details about obedience and your relationship with your dog. The family's shepherd was a bully and was a very dominant dog – not good with kids. One day Gretchen, the German shepherd, bit her and her younger sister. At 12 years of age, Gina called the dog trainer and asked her what was happening and how it could be fixed. Enlightened, Gina realized that Gretchen was not aggressive, as her parents thought, but rather needed her role in the "pack" changed.  Gina knew then, dogs were something very unique and deserved to be understood and have a strong leader.
Since the age of 14, Gina wanted to pursue a career with canines. Unsure of how to do this or where to start, she read every article and book she could find. Fueling the desire to work with dogs, she watched 4-H dog shows and decided she wanted a border collie. At age 16 she learned that one of her 4-H instructors was a border collie breeder. For her birthday her parents surprised her with her dog, Skye.
When Gina got Skye, she was 17. She applied everything she learned from the trainer and all of those books and articles. Training Skye in basic obedience, grew Skye to be a reliable recall dog, a dog who is completely off a leash in a normal environment and a few tricks. Needless to say Gina loved the process and the evidence of success. She wanted more!
After an 18 month internship with the woman who originally started Gina's desire to be a dog trainer, her business began. During the internship, Gina began walking dogs, pet sitting dogs, and getting herself into the entrepreneur world. Slowly she has started building a business and watching it grow. Late in 2018, broke off from the trainer and built Alpha Omega Dog Service.
Skye is the reason for all of this. She is almost 8 now and the trainer gave Gina the internship because she had trained a dog to be off a leash!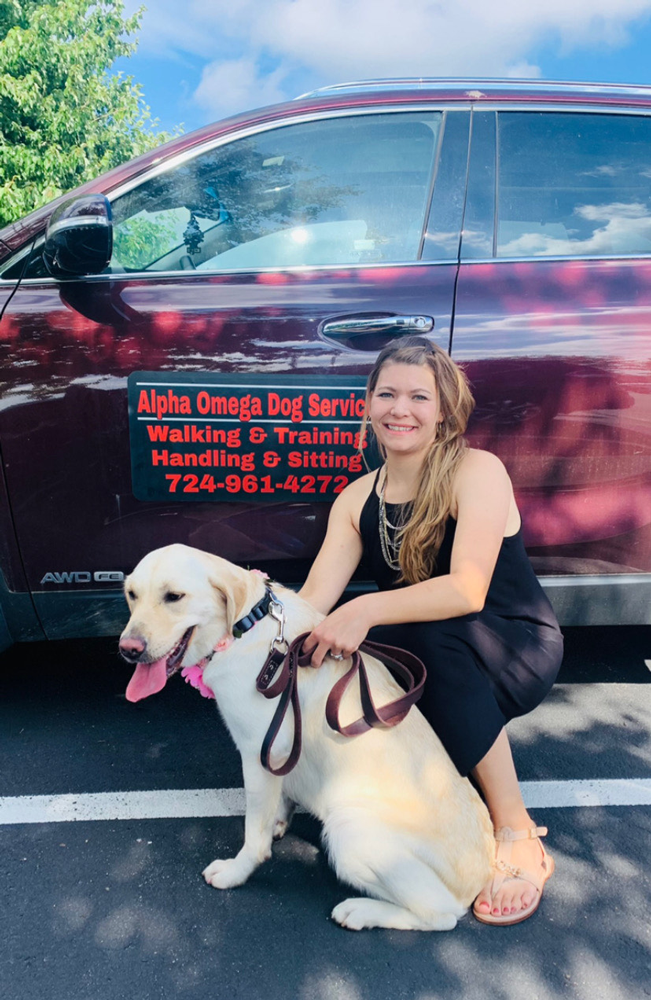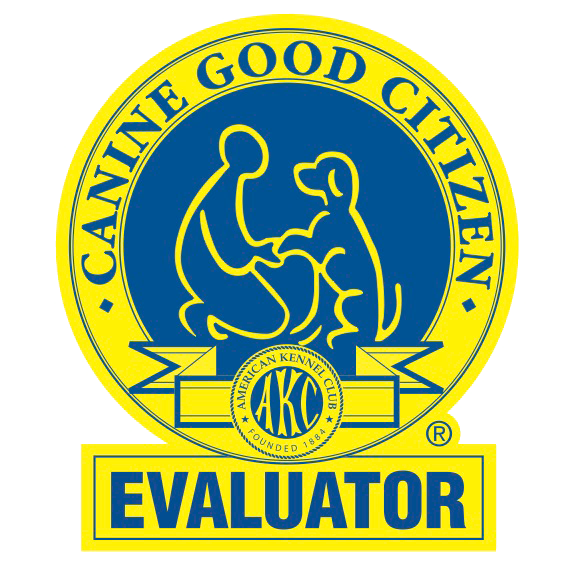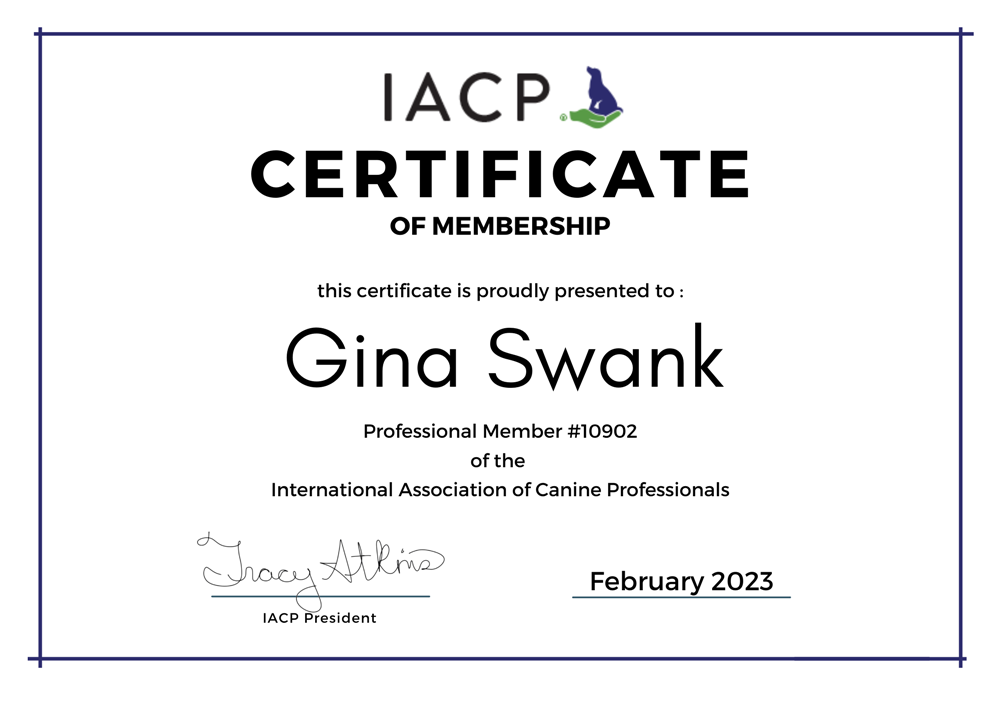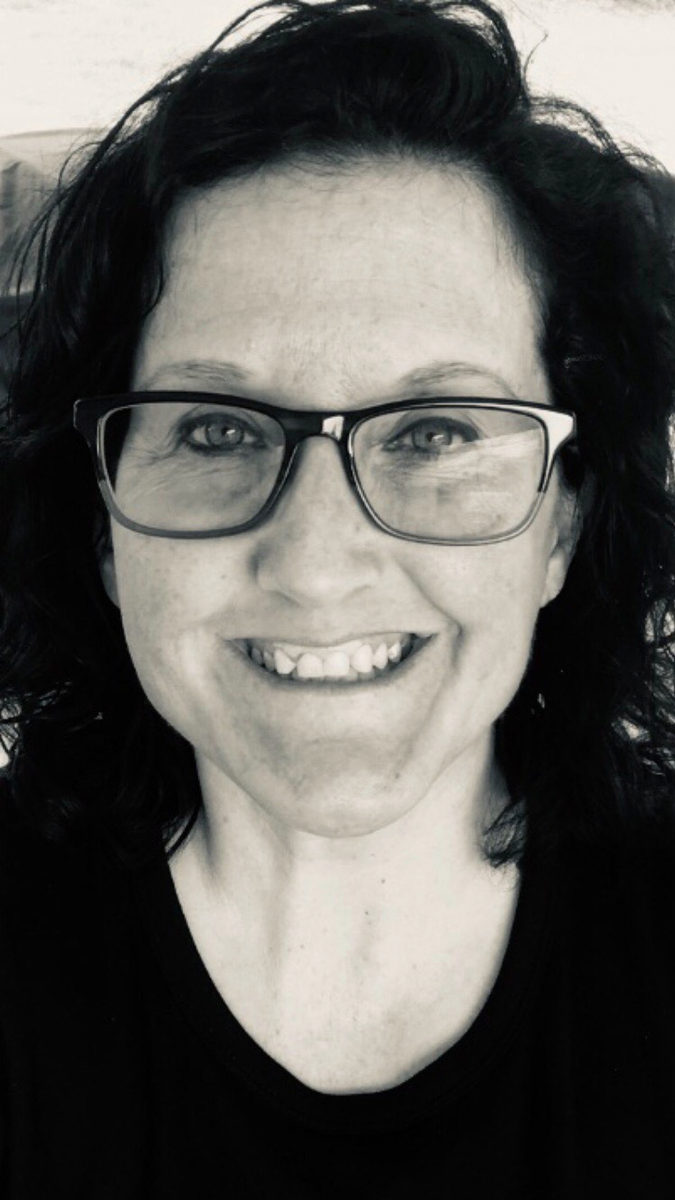 Traci – Dog Walker, Pet Sitter, Special Event Handler
Traci is the proud mamma of 2 teenage boys. Living in Mt. Pleasant, PA, Traci has been a nurse since 2001. She loves helping others. After taking care of her mom for over 5 years in her home, Traci's mother went to heaven in April of 2022. Traci considers it an honor to have been able to care for her mom all of those years.
Blessed with an 85 lb English labordor named, Lady Belle and her mother's dog, a 7 lb yorkie named Harley, Traci knows how to extend love to animals. Feeling as though God placed dogs on this earth to show us His unconditional love, she recognizes that the word dog is God spelled backwards. Dogs love unconditionally as well.
Traci will be walking, pet sitting and floating where need be in the Mt. Pleasant and surrounding areas. 
Bridget graduated from Norwin in 1978 then attended the Art Institute in Pittsburgh. She is a life long resident of North Huntington. Bridget has always had dogs and cats and currently has three senior rescues. Retired from UPS, she wants to give her retired time to dogs. Currently, she is employed at Petland Norwin and with Gina at Alpha Omega Dog Service happily walking dogs!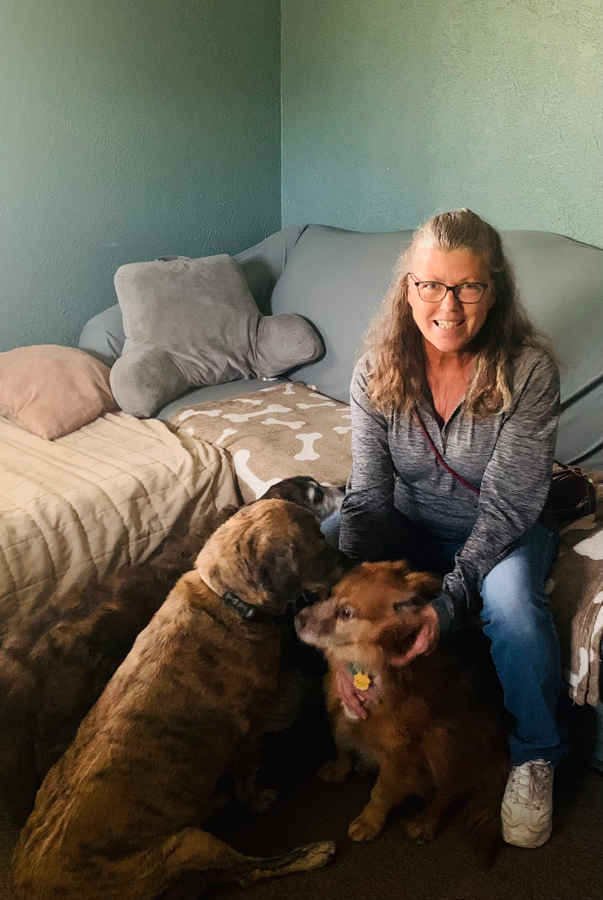 JIM – Dog Trainer, Dog Walker, Special Event Handler

Jim is a retired Pennsylvania State Police officer who currently is working as a local police officer.
He developed a passion for training dogs after he got his dogs, Lexie and Luna.
Jim's son is a k9 officer and helped his dad train his two dogs. During this time he fell in love with the profession and took online courses as well. Jim recalls a lot of the training information he learned from taking his son to dog training classes when he was a little boy with their family dogs.
"I'm confident that I could have both of my dogs heel in the perfect position on command, but as I tell people all the time, it's what you want"
Brooke is a stay-at-home step-mom to 5 children. She has 2 golden retrievers of her own Lucy and Bruno. She loves to help people and has a passion for animals.
My name is Savannah, I graduated Mt Pleasant Area high school in 2021 and I am now commuting  to Penn State for veterinary and biomedical sciences. Not only do I love working with and training dogs, but I also show and breed poultry.
I show in OH, PA, NY, and even KY! I love all dogs, but especially Australian Cattle Dogs. My dog, Paisley, and I love to hang out in the outdoors and on the boat. 
Hello, my name is Kellcee and I'm 19 years old. I have a big passion for working with animals. I love taking Princess, my 6-month-old Cheagel puppy, on long walks around the farm. I have always had cats and dogs growing up and couldn't imagine my life without them. Previously I worked at Cozi Inn Pet Resort in Somerset, PA and now I am happily working for Alpha Omega Dog Service. I'll be helping with the GO Laurel Highlands project and doing pet sitting and drop-ins in the Mount Pleasant, Acme, and Connellsville areas.
Let me introduce myself to you all. My name is Lisa. I recently retired from the medical profession and wanted to do something with dogs. I grew up with dogs in my home and have had a few rescues. I currently have an Alaskan Malamute and a Plott Hound mix.  I'm looking forward to this new chapter in my life. 
Lisa will be helping in the new Stanton territory along with her husband, Bob. They both are amazing assets to Gina's team and offer a love for dogs. Bob and Lisa are available to fit into your crazy schedules.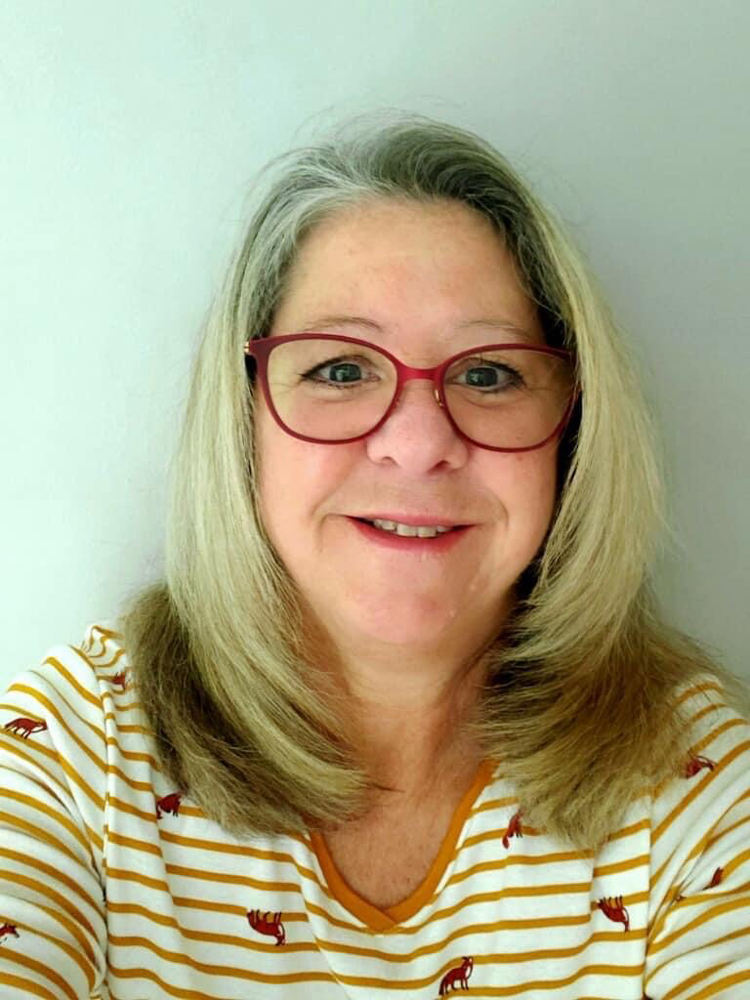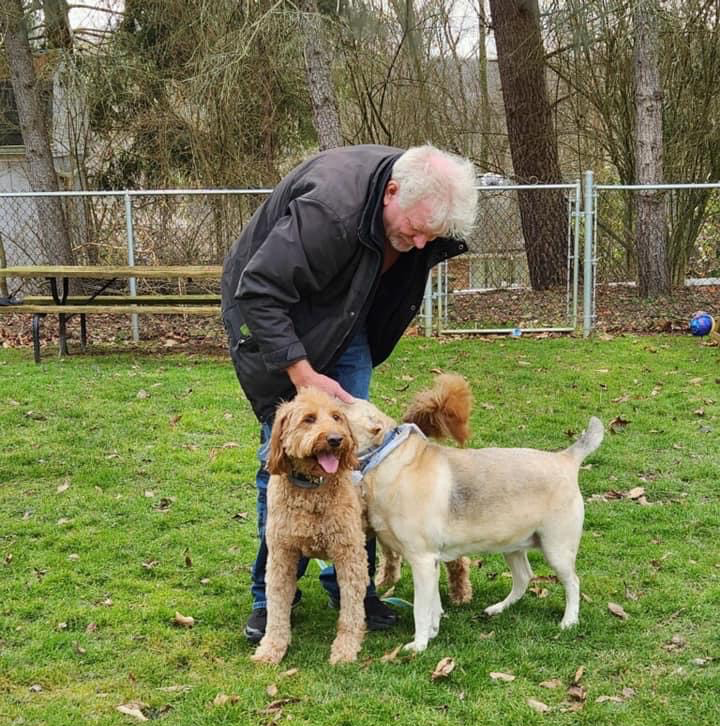 Lisa's husband and dog walker in the New Stanton area.